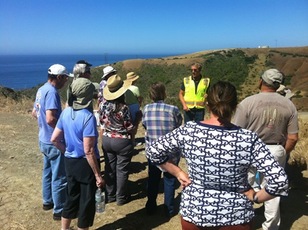 Tajiguas Landfill Tours
Did you ever wonder what happens to the trash that is thrown away? Find out by taking a tour of the Tajiguas Landfill. Tours are primarily scheduled on Mondays and Wednesdays and are offered year-round for free to groups or organizations of five or more.
If you live in the southern part of Santa Barbara County, your trash goes to the Tajiguas Landfill (Landfill). If your group or organization would like to learn about how the trash is handled and other activities at the Landfill, please contact Sam Dickinson at (805) 882-3618 or send him an e-mail.
Sam can schedule tours on most Mondays and Wednesdays. The best time to tour is from 10:00 to 11:30 a.m.
What are some things that I can learn during a tour?

See how the trash is handled at the Landfill
Learn how trash is currently used to provide electricity for homes in the southern portion of Santa Barbara County
Find out how falcons are used to protect the quality of the ocean water of the beach directly across from the Landfill
Hear about the future plans to convert most of the trash into electricity
If you'd like to spread the word about the availability of free tours of the Tajiguas Landfill, click here to access our flyer.
And if you'd like to tour our South Coast Recycling and Transfer Station, check out more information on the Transfer Station's Tour page.
Tour Feedback

"This was a fabulous learning opportunity for all that attended about the impact of RRRR (Reduce, Reuse, Recycle, and Rot). Sam was an outstanding tour guide who was able to translate complex information into practical terms. He was more than eager to answer questions. It was obvious that he is passionate about educating people about waste and composting."
Gerri French, Santa Barbara Food and Farm Adventures
"Excellent information about the landfill and the use of methane gas production in generating electricity. I like the falcon program that chases away seagulls [sic] from hovering over the garbage and contaminating the ocean."
Safwat Zaki, Santa Barbara community member
Schedule a Tour

Sam will tailor the tour to the interests and needs of your group or organization. He can provide information on such topics as the Landfill's history, waste diversion efforts, and actions being taken to protect the environment.
Tours can be scheduled on most Mondays and Wednesdays, ideally from 10:00 to 11:30 a.m. For more information, please contact Sam at (805) 882-3618 or send him an e-mail.