ReSource Center and Tajiguas Landfill Tours
During the ReSource Center & Tajiguas Landfill Experience tour, we will uncover topics including how the trash is handled at the Landfill, how falcons are used to protect the quality of the ocean water of the beach directly across from the Landfill, and how trash is currently used to provide electricity for homes in the southern portion of Santa Barbara County.
The start of 2021 brought new and improved changes on how trash gets handled in Santa Barbara County. The newly developed ReSource Center facility includes a state-of-the-art Materials Recovery Facility (MRF) to sort recyclables and trash, and an Anaerobic Digester (AD) to process both mixed and source-separated organics. The end result is the recovery and sale of additional recyclables, and the production of green energy, compost, and nutrient-rich compost for local land application. 
Come visit upstairs in the Materials Recovery Facility where our Education Center is located! Here you can experience first-hand, the behind-the-scenes of the trash and recyclables sorting operations. The center offers a unique, physical educational experience about waste reduction. With the Education Center located on the second floor, you are able to look down and around the inside of the Materials Recovery Facility through the tall windows that frame the bright green machinery and hard working crew. 
The tour is tailored to the interests and needs of your group and can provide information on such topics as our region's waste history, waste diversion efforts, and actions being taken to protect the environment. If you're interested in touring the combined ReSource Center & Tajiguas Landfill Experience, please select an available day on the calendar to submit a tour request for you and your group.
 Remember: 
Tours are available on Monday and Wednesday.
Tours are available to Santa Barbara County residents over 7 years of age.
Groups can be between 10 and 30 participants.
If you have a smaller group, please contact Sam Dickinson to coordinate joining another group.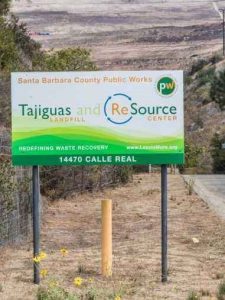 Related Materials
Related Articles