Articles by month: May 2017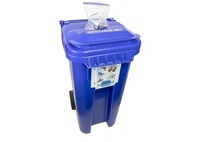 Did you know you can recycle your household batteries at the curb? Simply put your old batteries in a clear plastic bag (tape the ends for rechargeables) and place the bag on top of your curbside recycling bin. It's that easy!
Read more...
If you no longer use a phone book and don't want one delivered to your home or business, check out this new video by the Product Stewardship Institute. Then easily opt-out of receiving future books.
Read more...
Categories
Archives
Authors
Tags