Articles by month: March 2018
With spring in the air, make sure your vehicle is in top shape for upcoming vacation travel. If you change your own oil, recycle it at no charge at one of over 50 drop-off locations in the County. And don't forget your oil filters!
Read more...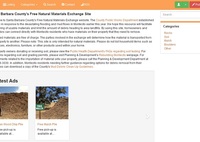 The new exchange site will facilitate the sharing of usable natural materials, such as rocks, soil, and mulch, and will help reduce homeowners' disposal costs, as well as limit the amount of debris heading to area landfills.
Read more...
Categories
Archives
Authors
Tags