Articles by month: March 2016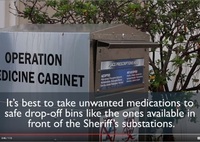 March is Prescription Drug Abuse Awareness Month in California, reminding us of the need to properly dispose of unwanted household medications so they don't end up in the wrong hands. Download our recent press release here or watch our short video.
Read more...
The Community Hazardous Waste Collection Center will be closed this Sunday, March 27 in observance of the Easter holiday. The Center will resume operations on Friday, April 1 for businesses (appointment required) and Saturday, April 2 for households (no appointment needed).
Read more...
Categories
Archives
Authors
Tags