Articles by month: February 2018
With answers to questions like, "What do I do with mud, rocks, and other debris on my property?", our updated Private Property Debris Removal FAQs provide homeowners with comprehensive information on debris clean-up and disposal.
Read more...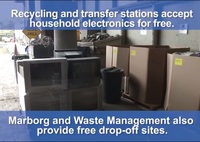 Are you storing old TVs, computers, and other electronics at home, waiting for the next recycling event? No need to wait! Stop by one of the County's free drop-off sites any time we're open.
Read more...
Categories
Archives
Authors
Tags