Articles by Tom Chiarodit
Residential trash customers in the unincorporated area of the county are entitled to two "bulky item" collections per year at no charge. The collections are intended for large household items like appliances, electronics, furniture, and more. Check out our quick video for sample items.
Read more...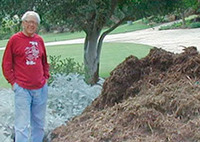 In this time of emergency drought conditions, the Resource Recovery and Waste Management Division wants to remind everyone about our great mulch program that can greatly reduce the need for water for your plants, gardens and trees.
Read more...
Categories
Archives
Authors
Tags