Amber Sabiron, a nurse at the Pueblo branch of Sansum Clinic, is busy organizing her coworkers for Coastal Cleanup Day 2013. So far, 70 coworkers have signed on, and Amber is optimistic that she will be able to count on over 100 volunteers by Coastal Cleanup Day, which is on Saturday, September 21st from 9:00 a.m. to noon.
Several months ago, staff at Sansum Clinic met and decided that participating in Coastal Cleanup Day would be the best way to give back to the community. Their choice of Amber as their organizer was easy -- she is a 3rd generation Santa Barbaran who is acknowledged as being a big advocate for pristine public beaches as a community asset. Amber, in turn, feels that this event is a perfect way for Sansum Clinic to give back to the community, while building a strong sense of team through their involvement in good causes. She emphasizes that the volunteers really look forward to working on a commonly shared project.
Sansum Clinic's involvement in Coastal Cleanup Day is just one of their green initiatives. They are increasing their staff recycling education and starting to compost their food scraps and other compostable waste. On Coastal Cleanup Day, they will use alternative forms of transportation and carpool to the beach. They will also participate in the BYOB campaign, where you bring your own reusable bucket or bag, reusable gloves, and reusable water bottle.
Keep a lookout for Amber and her team at Leadbetter Beach on Coastal Cleanup Day, Saturday, September 21st from 9:00 a.m. to noon. This site is just one of many countywide that will be cleaned that day. You and your organization can get involved too and head out to your favorite beach. No sign-up is necessary.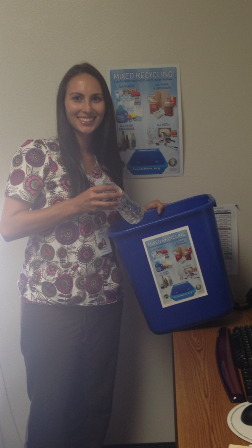 Related Materials
Categories
Archives
Authors
Tags